Over the past year I've been having some back troubles.  My Chiropractor has given me lots of advice (exercises, don't lie around in bed all morning on the weekends, etc.) and most of it has helped out quite a bit.  One of the questions he asked me was what kind of work case did I carry around and how heavy was it.  For many years I've used a messenger style bag and it usually weighs anywhere from 15-20 pounds (depending on if I'm traveling).  The Chiropractor suggested that I get a back pack so that the weight is evenly distributed across my shoulders and back, not focused on one shoulder.  So, the hunt was one for a good laptop bag.
I had heard great things about the Tom Bihn line of bags, so I started (and ended) my search there.  I already had experience with Tom Bihn via their Brain Cell, which is a container for a laptop that has a Velcro opening and usually slides into other bags.  The Brain Cell can also be worn as a messenger style bag on its own since it has clips on the outside for a shoulder strap.  The case has an adjustable inside to allow you to customize the Brain Cell a little further to your specific machine.  The Brain Cell comes in several sizes to best match your laptop.  I had a size 5, which at the time of purchase was the smallest they had (I needed something to put my Motion LS800 tablet in.  The same bag fits my new Dell XPS M1210 laptop even better!). 
My choices came down to the Brain Bag or the Smart Alec backpack models.  Both seemed like they would handle what I would need them for, but I settled on the Brain Bag. I ordered the Brain Bag, a Freudian Slip and a Snake Charmer (more on the last two a little later).  The ordering process was simple enough and I can't complain about the shipping or packaging.  Everything came in the same box, with the Freudian Slip and Snake Charmer inside the Brain Bag.  Note that I purchased the Navy Blue Brain Bag, but it comes in a variety of colors.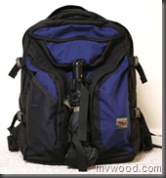 The Brain Bag is what I consider a large backpack.  Not backpacking pack large, but it is definitely big  (Check out the image below where a tech book is shown next to the bag).  It has two large pockets that run the height of the bag, as well as three smaller pockets on the front.  If you look at the picture you can see that there are also straps on the front that can hold an umbrella or rolled jacket (umbrella sold separately).  Two of the pockets on the font are taller and have a tapered top to them.  These have pencil holders and smaller pockets inside them.  The third outside pocket is directly above the umbrella strap and is just large enough to hold a wallet, keys, and an MP3 player.  A mesh pocket is located overlaid one of the outside pockets to fit a water bottle or other items. 
The two large interior pockets are what you would expect in a backpack.  They run the height and width of the pack.  Both of them have the ability to slip in a Brain Cell and lock it in place via clips, so if necessary you can tote around two laptops securely.  The bag is large enough to haul around the 17" monstrosities if you have one.  The Brain Cell I have fits well in the back pocket and there is enough room above it to put the Snake Charmer, which leaves the large front pocket open for the Freudian Slip and other items.  The sides of the bag have compression straps to reel in how far the bag sticks out from your back.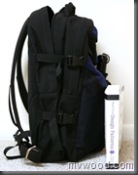 It is very easy to tell that the bag is good quality.  Everything on it feels well made and durable.  I'm able to fit everything that was in my original bag very easily with a  great deal of room to spare and the Freudian Slip/Snake Charmer help keep things organized inside the bag. 
Speaking of the Freudian Slip and Snake Charmer.  The slip is nothing more than a piece of hard material that has pencil/pen holders/mesh pockets on one side and folder pockets on the other.  This doesn't seem like much when you look at it online, but it really does help keep the contents of the bag it is slid into organized.  I'm able to fit a variety of writing instruments, some folders, my portable hard drive, and even my Sony Reader into the slip.  Very nice.  The Snake Charmer may well be my favorite organizer though.  It's simply a two pocketed bag with mesh pockets so you can see what's inside.  I'm able to fit all my cables and power brick into it and it fits snuggled above my Brain Cell in the Brain Bag.  You could probably accomplish the same task of the Snake Charmer with a cheap toiletry bag from Wal-Mart, but the Snake Charmer is made with the same quality and durability as the Brain Bag so you get what you pay for. 
Overall I'm very pleased with my purchases.  The Tom Bihn bags are more expensive than going down to Staples and picking out a laptop bag there, but the quality is definitely tied up with the cost in this case.  I spent more on my previous messenger bag, which was a Victorinox bag (also a great quality bag).  I recommend Tom Bihn bags to anyone that needs a good laptop bag, or ways of organizing their bags.
Pros:
The bag is high quality from zippers to material to strap buckles.
The bag is big enough to carry anything I need and still be considered mobile.
The bag comes with a chest strap, but that was easily removable if you want it to be (and you can put it back on….some bags if you remove the chest strap you have to damage the chest strap to do so).
The umbrella straps on the outside is a great feature.
The ability to slip in a Brain Cell and attach it inside so that it doesn't slide on it's own.
The Freudian slip and Snake Charmer makes organizing your bag much easier.
Cons:
More expensive than other backpacks.
It's a big bag…make sure you need one this large or don't mind looking a little undersized when wearing it.  I'm 5'2", so I look even smaller with this on my back…..but my back isn't hurting from carrying it!
I think it should have come with two sets of clips for attaching Brain Cells instead of just once set.  The bag can hold two Brain Cells.
Note: As of the writing of this review I have no relationship with Tom Bihn other than I'm a customer.