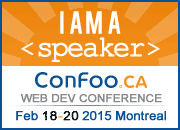 I've been selected to speak at ConFoo in Montreal in Feb of 2015!  I'm pretty excited about this as I've heard some really great things about the conference, and I'll get a chance to visit Montreal which I've never been to before.  I really enjoy these international events as I always meet some really amazing people, learn some cool things and get different perspectives on technology from all over.
Two of my talks have been selected: *Messaging Patterns *and Being Efficient with Azure Automation.  The Messaging Patterns talk is an introductory level discussion about various patterns used for messaging systems, such as MSMQ, RabbitMQ, etc.  I'll be also giving examples of how these apply to Azure, but really they can be implemented on just about any messaging system.  The Being Efficient with Azure Automation talk will cover the new service from Azure announced earlier in 2014 which helps you automate tasks for your resources in Azure.
I'm humbled to be selected to speak and you can see the full line up of presenters and their sessions online.